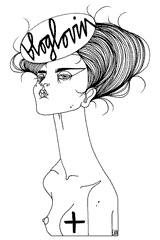 So I launched Electric Dress two months ago and I have had so much fun so far - but as fellow editor Jessie and I always said at Glasgow University Magazine,
you are what you read
. So in an attempt to find some inspiring reading material for writing and dressing purposes, and perhaps galvanise a few more followers myself, I've entered the world of Bloglovin'. So far so good, its a great site to filter multiple blogs onto one reader, allowing you to click through to individual posts you think are interesting.... And, you get this sexy badge designed by Liselotte Watkins to stick on your blog to show your stripes. Wendy, of
Thank Fifi
, has also recently dived into the glittering Bloglovin' swimming pool and put this video up by Bloglovin' creator Mattias Swenson, a brainwave I'm brazenly stealing. Click the badge at the side to follow me!